These 25 healthy meal prep bowls are perfect for lunch or dinner. Enjoy!
1. Healthy Italian Sausages & Veggies
Delicious Italian-seasoned veggies and sausage all made in one pan. A great and healthy meal prep idea!
2. Asian Lemon Chicken Meal Prep

Asian Lemon Chicken – an easy homemade 30 minute version of the popular Chinese Takeout-Style Lemon Chicken. With a light and crispy coating covered in a flavorful sweet, savory and tangy lemon sauce. With gluten free & paleo options. Stove top, bake or air fryer instructions plus recipe video!
Skinny turkey taco bowls are served with cauliflower rice for a healthy, low carb and flavorful meal that can be prepped ahead of time for your weekly meal prep.
4. Spicy Chicken & Sweet Potato Bowls
These bowls are super clean and healthy but pack tons of flavor with all of the seasonings that are added to the chicken. I have made it twice since, and actually made it last night to meal prep some work lunches for the week.
GREEK CHICKEN BOWLS: INSANELY DELICIOUS GREEK CHICKEN BOWL RECIPE. GREEK MARINATED CHICKEN, CUCUMBER SALAD, TZATZIKI, RED ONION, AND TOMATO, SERVED OVER BROWN RICE. THESE ARE QUICK AND EASY TO MAKE, AND WILL HELP YOU BE SET FOR THE WEEK.
Tastes like Korean BBQ in meal prep form and you can have it ALL WEEK LONG! Simply prep for the week and you'll be set. EASY!
7. Sriracha Cauliflower Fried Rice Meal Prep
Sriracha Cauliflower Fried Rice is easy to make in large batches ahead of time for your weekly meal prep. It's low carb, gluten-free and also tasty and filling.
8. Meal Prep Greek Chicken Gyro Bowls
Easy, healthy, and incredibly delicious Meal Prep Greek Chicken Gyro Bowls are ready in 30 minutes and perfect for a quick dinner or make ahead on-the-go lunches.
9. Sweet Potato Fajitas Meal Prep
nThis sweet potato fajitas meal prep recipe couldn't be easier! Cook the seasoned veggies on a sheet pan and serve with rice and guacamole for a balanced, filling meal.
10. Chicken & Broccoli Stir Fry Meal Prep
Chicken and Broccoli Stir Fry is an easy meal that can be made ahead of time in large quantities for your weekly meal prep.
11. Buffalo Turkey Meatball Meal Prep Bowls
Proof that eating healthy can be both delicious and achievable, these BUFFALO TURKEY MEATBALLS are the perfect dinner solution for any night of the week and make delicious meal prep bowls to help power you through the week.
This Greek healthy meal prep recipe is epic: cauliflower rice tabbouleh, tender seasoned chicken breasts, hummus or baba ganoush, kalamata olives, and a rich, garlicky tzatziki. This healthy meal prep recipe will have you looking forward to lunch all morning! It's also a Whole30 meal prep recipe and paleo meal prep recipe, too, when you sub coconut cream or coconut yogurt for the yogurt. This is seriously SUCH a perfect healthy meal prep recipe.
13. Baked Lime Chicken Meal Prep Bowls
These Meal Prep Baked Lime Chicken Bowls are not just healthy but are also delicious! Chicken breasts are cubed and marinated in a chili-lime marinade and then baked. Pair with quinoa and green beans for yummy make-ahead healthy meals!
14. Roasted Chicken & Veggies Meal Prep
Seasoned with olive oil and italian spices then roasted to perfection, this sheet pan chicken and rainbow veggies is great for meal prep and makes a healthy lunch or dinner too!
15. Spiralized Pad Thai Chicken Meal Prep
These Spiralized Pad Thai Chicken Meal Prep Bowls are a healthier, low-carb version of Thai takeout with spiralized zucchini, matchstick carrots, red cabbage and an easy Pad Thai sauce!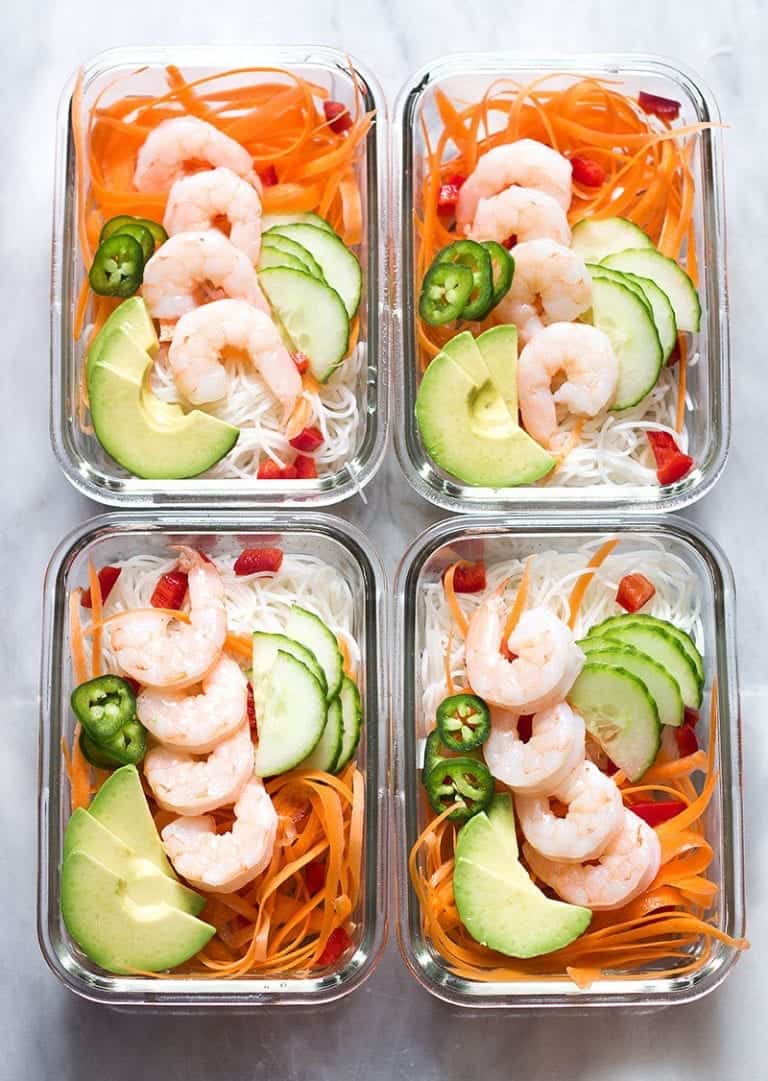 No time for a full meal prep? No matter how busy life gets, these make-ahead Spring Roll Meal Prep Bowls are easy to put together and filling enough to pass for a regular meal! They're delicious, with protein and healthy fats to help satisfy hunger.
17. Buffalo Chicken Ranch Meal Prep
This Whole30 buffalo chicken ranch meal prep is Whole30 meal prep perfection! Totally loaded with flavor, protein, healthy fats, and fiber, this is a great meal prep idea for lunch. With cauliflower rice and homemade ranch dressing, this will definitely become one of your favorite meal prep recipes.
18. Jerk Chicken Meal Prep Bowls
Recipes like this prove that meal prepping is totally worth it. With spicy chicken, sweet pineapple relish, and fragrant Spanish rice, it might be hard to believe, but this flavor-packed combo really can come together in just 30 minutes… and last you through four lunches or dinners.
19. Meal Prep Fiesta Chicken Rice Bowls
Fiesta is right—brimming with spiced corn, brown rice, salsa, and peppers, these colorful chicken and rice bowls make every meal feel festive. They're also prepped and ready to go in just 20 minutes. If only all parties were this easy to put together!
20. Tex-Mex Chicken Meal Prep Bowl
With a little advance planning on the weekend you can have these healthy Tex-Mex Chicken Meal Prep Bowls waiting in your refrigerator for a fast and easy meal anytime. Perfect for lunch on-the-go!
21. Asian Style Chicken, Veggies, and Rice Meal Preps
Sweet, sesame-coated chicken is a great complement to the simpler steamed veggies here, while brown rice (instead of the usual white) adds some extra fiber. Pack into separate containers, and it'll look just like something out of your local Chinese take-out place.
22. Italian Chicken Meal Prep Bowls
This recipe uses quick-cooking, microwave-friendly rice for when you're short on time (isn't that always?). Better yet, you can be completely flexible on the types of veggies and seasonings you choose to add to the dish. So open the fridge and use whatever you have in there. Just treat this recipe as an easy guide to making simple Italian-style dinners that'll last you all week.
Thai chicken lunch bowls have roasted vegetables and chicken served over rice with a tangy peanut sauce. Easy to prep and keeps well for four day!
24. Slow Cooker Chicken Teriyaki Quinoa Bowls
If you have no time to meal-prep, let your kitchen appliances do the work for you. A slow cooker lets the chicken, pineapple, and peppers simmer for three hours in a sweet and tangy sauce, while a rice cooker takes care of the quinoa. All you have to do is scoop everything into containers.
25. Baked Chicken, Broccoli, & Sweet Potato's Bowl